Forget about "Froggy Went A 'Courting." Check out how the Mouse is wooing Miss Piggy!
Jim Hill sifts through some of the more recent stories surrounding the Jim Henson Company and the Walt Disney Company and points out the subtle (and not-too-subtle) ways that the Mouse has been indicating that it would still very much like to acquire Kermit & Co. (For the right price, of course).
By Jim Hill
June 4, 2002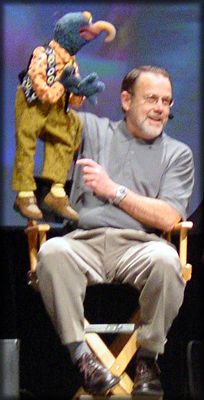 The next time you're out at Walt Disney World, make a point of dropping by Epcot's recently re-opened "Journey into Your Imagination" ride. Then try and guess which performer provided Figment's new voice.
No, it's not Billy Barty. Hollywood's favorite "little person" did originally provide the vocals for the much beloved purple dragon when this Future World attraction first opened back in March 1983. But Barty passed away in December 2000. Which left Walt Disney Imagineering in a bit of a lurch when it wanted Figment to say some new lines in the revamped attraction.
So who did Disney eventually turn to to provide the dragon's new dialogue? Veteran Muppeteer David Goelz. Best known as the hands (and voice) behind the Great Gonzo and Dr. Bunsen Honeydew, David was the only guy that WDI thought could fill Billy's not-so-big shoes. Which is why the Imagineers eventually hired Goelz for this weird little gig earlier this year.
Now -- if you were to take this news at face value -- it would seem fairly innocent. As if WDI just went after who they thought would be the best man for the job. Similar to what they did back in 1994, when they hired Monty Python vet Eric Idle to play Imagination Institute head Nigel Channing in Epcot's "Honey, I Shrunk the Audience" attraction.
But -- if you're a somewhat suspicious, cynical person like me -- you can't help but think: Is WDI's hiring of David Goelz to do Figment's voice yet another sign of the Walt Disney Company's continued interest in the Jim Henson Company. After all, there must be hundreds of performers out in Hollywood who could easily imitate Barty's distinctly raspy voice. So why -- out of that huge pool of talent -- did Disney decide to hire one of Henson's top people to do this job?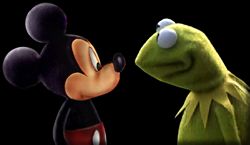 It just doesn't make any sense ... Unless -- of course -- you factor in the notion that the Mouse might be trying to "make nice" with the Muppets. Keep JHC's core creative team happy. Just so key people like Goelz don't go wandering off the reservation. Just in case Disney does actually decide to go forward with its plans to finally acquire the Jim Henson Company.
Sound far fetched? Not when you consider that veteran Muppeteer Frank Oz (best known as the performer behind Miss Piggy & Fozzie Bear) has seriously cut back on his puppeteering for JHC lately in order to concentrate on his career as a film director. This is why Henson recently had to hire Eric Jacobson to cover Oz's cadre of crazy characters.
And let's not forget last week's surprise announcement that Brian Henson -- son of JHC's founder, Jim Henson -- would be stepping down as Chairman of the Jim Henson Company (also supposedly to pursue a directorial career). This is why it's supposedly suddenly become so crucial for Disney to keep veteran Muppeteers like Goelz happy. Just so all of Henson's main assets don't go waltzing out the door before the Mouse can finally get around to buying the Frog.
Taking all of this into account, suddenly some of Mickey's more recent business moves become ... well ... kind of intriguing. Take -- for instance -- Disney's decision to hire the Jim Henson Creature Shop to provide the robotic huskies for the studio's February 2002 release, "Snow Dogs." Or how about the Mouse turning ABC's new hit mini-series, "Dinotopia" (a program that Henson's special effects wizards provided animatronics for) into a weekly television program.
Or -- even more telling -- what about last December's announcement that the Walt Disney Company and Jim Henson Pictures would be teaming up to turn an old Philip K. Dick story, "King of the Elves," into a full length feature film. Or how about last fall, when Mickey offered JHC use of Disney/MGM's sole remaining soundstage. Just so Henson would have an affordable place to produce its new direct-to-video project, "Kermit's Swamp Years: The Real Story Behind Kermit the Frog's Early Years."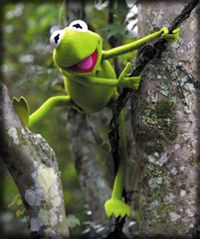 Clearly, the Walt Disney Company has (directly & indirectly) been throwing a lot of business Jim Henson's way these past 15 months. But is the Mouse consciously doing this because it wants to keep the talent happy? Just so JHC's core team of performers will still be on board should the Walt Disney Company ever finally decide to go forward with buying the Muppets?
Based on the way Mickey's been behaving lately, this would almost certainly seem to be the case. Let's not forget that Disney CEO Michael Eisner has been openly lusting after the Muppets for almost 13 years now. Back in 1989, the Mouse came within inches of buying the Jim Henson Company. But that deal ultimately fell through following the untimely death of the company's founder in May 1990.
Well, now the Muppets are up for sale again. EM.TV -- the financially strapped German entertainment consortium that paid $680 million for the Jim Henson Company back in February 2000 -- put JHC on the block back in March 2001. And Disney has supposedly been seriously considering snatching up Henson (and all of its talented staffers) ever since the company first came on the market early last year.
The key problem here is cost. After all, Mickey loves a bargain. Which is why the Mouse could never bring itself to pay the price that EM.TV was initially asking for JHC. Something in the neighborhood of $300 - $400 million. A sum that Eisner himself said was "not realistic."
But -- on the heels of September 11th -- the price of the Jim Henson Company began slowly drifting downward. Right now, it's rumored to be in the neighborhood of $175 - $200 million. Which is actually just a wee bit higher that the fee that Disney had originally agreed to pay Jim Henson for his company back in 1989. Which is why Mickey may now finally be ready to snatch up Kermit & Co.
Well, Disney's finally decided to get serious about buying the Muppets, they'd better get a move on. For they're not the only major media player who's currently interested in acquiring the Jim Henson Company. Rupert Murdoch and his enormous News Corp. operation clearly care about Kermit. Otherwise, why would Fox Broadcasting Company agree to present a brand new primetime Muppet TV series (due to debut in 2003) unless the folks there felt that they had a frog in their future?
And let's not forget about Vivendi / Universal. That company already has a new Muppet-based attraction, "Sesame Street 4D," in the works for its Universal Studios Japan theme park. So is really such a stretch to think that Universal / Vivendi might be able to find a place for the Muppets inside of their stateside parks?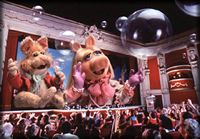 Of course, all three of these major players -- Disney, Fox and Vivendi / Universal -- want the best possible deal for the Muppets. Which is why they continue to circle the deal, hoping against hope that EM.TV's asking price for the Jim Henson Company will continue to head for the basement. Of course, the longer that these big dogs delay, the more likely it is that some minor player (like Henson CEO Charlie Rivkin, who -- with the help of some private investors -- is still seeking to buy back the Jim Henson Company and take the corporation private again) will swoop in and scoop up Miss Piggy & pals.
In the mean-time. Disney continues to woo Henson's top talent by "making nice" with the Muppets. Which is why -- earlier this month -- a DVD of Disney & Henson's co-production, "Muppet Treasure Island," hit store shelves. This beefed up version of the film has snazzy new features like an audio commentary by Brian Henson and David Goelz.
The very folks that Disney wants to keep happy. Just in case the Mouse actually does decide to finally buy the Frog.

Learn more about Jim Hill at JimHillMedia.com.