Sid the Science Kid special airs October 26
Sid explores germs, viruses and vaccines just in time for flu season in a special episode "Getting A Shot: You Can Do It!"

Courtesy of the Jim Henson Company
October 9, 2009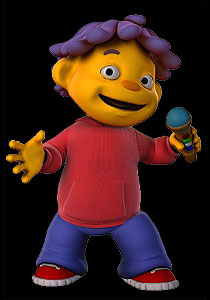 Everyone's favorite preschool scientist, Sid, star of Sid the Science Kid, is hearing a lot of talk this fall about how to stay healthy, which leads him to ask lots of questions about what can make a person sick and what he can do to keep from getting sick.
In the new special episode "Getting A Shot: You Can Do It!" from the Emmy®-nominated series, Sid and his friends will learn the basic science behind germs, viruses and vaccines using age-appropriate vocabulary and scientific concepts that have become a hallmark of the series. PBS Kids will premiere the special on Monday, October 26 (check local listings) with several re-airings over the following weeks.

It's vaccination day at Sid's school, and Sid and his friends are a little apprehensive about getting a shot. Thankfully, a very special nurse will be giving the kids their vaccination—Sid's Grandma! Throughout the special episode, Grandma, Teacher Susie, Mom and Dad all do their part to make vaccination day a fun learning experience filled with music, games and lots of laughs.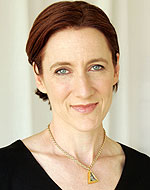 Lisa Henson
"Sid the Science Kid explores the science behind the everyday experiences of a preschooler and we know that getting a shot can be scary for many children," said Lisa Henson, CEO of The Jim Henson Company. "This special episode is an opportunity for us to help kids understand why they are getting a shot while providing parents and caregivers with helpful resources to handle this important issue."

"Our characters are great role models for children and help them navigate their way through some of the more challenging experiences they face in life, like getting a shot," said Lesli Rotenberg, SVP, Children's Media, PBS. "It is so important that children build healthy habits early in life and Sid is a perfect guide to help children explore what this means."
The special episode is supported by online games, activities and resources for kids, parents and educators. At PBSKIDS.org/sid, kids can learn about germs, illness and getting shots through age-appropriate activities and videos. For parents and caregivers, PBS Parents (PBSPARENTS.org) features resources to help children cope with illness and overcome fears they may face about going to the doctor. PBS Teachers (PBSTEACHERS.org) will host a PBS Teachers live Webinar for educators about this episode and how teachers can help children stay healthy at school.

Developed to inspire a lifelong curiosity and love for learning in young children, Sid the Science Kid appeals to children's instinctive quest to figure things out, using a relatable cast, humor and music as key teaching tools. Sid, the show's energetic and inquisitive preschool star, starts each episode with a new question and embarks on a fun-filled day of finding answers as he encourages preschoolers to think about how to find answers to their own questions. Joining Sid are a colorful supporting cast, including his friends Gabriela, May and Gerald; his teacher Susie; Grandma; Mom; Zeke, Sid's baby brother; and Dad.



Sid the Science Kid is a co-production of The Jim Henson Company and KCET/Los Angeles for PBS Kids. Brian Henson, Lisa Henson and Halle Stanford of The Jim Henson Company, along with Bradley Zweig, serve as executive producers. Joyce Campbell is executive producer for KCET. Mary Mazur is executive in charge of production for KCET. The Jim Henson Company is handling all ancillary use of of the property including licensing, video and merchandising. The Web site at pbskids.org/sid is being produced by KCET New Media, which has partnered with multimedia design studio FableVision.

The "Sid the Science Kid" vaccination special is funded by The Department of Health and Human Services, The Association for Prevention Teaching and Research (APTR), First 5 California and The Boeing Company.

MORE HENSON NEWS

• Jerry Nelson tribute at The Moving Image Museum October 27
• Jim Henson's Pajanimals debuts on NBC Kids Saturday July 7
• The New York Pops play The Muppets at Carnegie Hall April 14
• Henson announces "Sid the Science Kid: The Movie" in 3-D
• The Jim Henson Company Puppets to perform at the 2011 Grammys
• "Pioneers of Television" special to honor Jim Henson
• Classic "Henson's Place" special arrives on DVD August 3
• Frank Oz unveils tribute to the "Henson Pipes" at NBC Studios