Administrator
Staff member
Joined

Apr 11, 2002
Messages

8,197
Reaction score

3,394
Episode 265 - Ice Cream Machine on Sesame Street
PBS Premiere: Friday May 14, 1971
HBO Max Premiere: Wednesday May 27, 2020
Bob is on his way to Mr. Hooper's for ice cream when Moe, an ice cream company employee, shows him a new ice cream vending machine on Sesame Street. Bob puts a dime into the machine and gets an ice cream sandwich. Mr. Hooper worries that the new vending machine will put him out of business. Oscar the Grouch stops by the ice cream machine but doesn't see his favorite flavor: sardine ice cream! Mr. Hooper, however, shouts that he has Sardine ice cream and Oscar heads over. Big Bird stops by the ice cream machine, but Moe doesn't have his favorite flavor either: bird seed ice cream. Mr. Hooper calls over Big Bird with his 'Bird Seed Ice Cream' special. Moe calls his company to say their ice cream machine can't compete with Mr. Hooper's great personality and different flavored ice creams.
52 MIN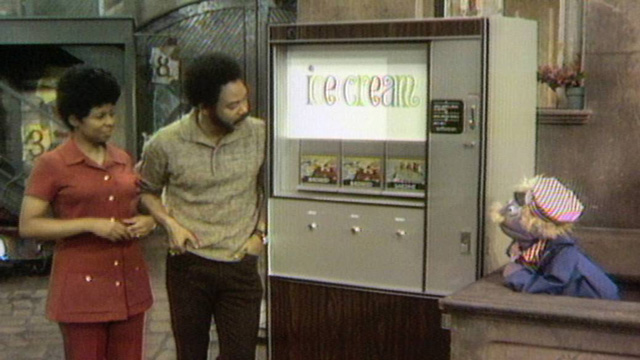 Watch on HBO Max
Muppet Wiki Guide
Other Releases
This is the first time this episode has been commercially released or streamed since it's original broadcast.
If you've seen "Ice Cream Machine on Sesame Street" on HBO Max please like this post and share your thoughts below.