Administrator
Staff member
Joined

Apr 11, 2002
Messages

8,175
Reaction score

3,391
Episode 131 - Oscar's Grandmother Visits
PBS Premiere: Monday November 9, 1970
HBO Max Premiere: Wednesday May 27, 2020
Mr. Hooper spills milk on his counter and Big Bird sings a song to explain that it's okay to make mistakes. He sings that you shouldn't get mad or sad when you make a mistake because everyone makes mistakes, even your mother, father, and siblings. When Big Bird climbs into his nest, he accidentally steps on a letter J. Everyone assures him that it's okay, it was just a mistake. Meanwhile, Bob gets an important message for Oscar the Grouch: His grandmother, Granny Grouch, is coming to visit. Granny Grouch gives Oscar a big kiss, but Oscar does not like it very much. Granny knows all her grandchildren do not like her kisses, but she kisses anyway. Even though they cannot agree on kisses, Oscar and his Granny can enjoy a nice hot cup of mud together.
59 MIN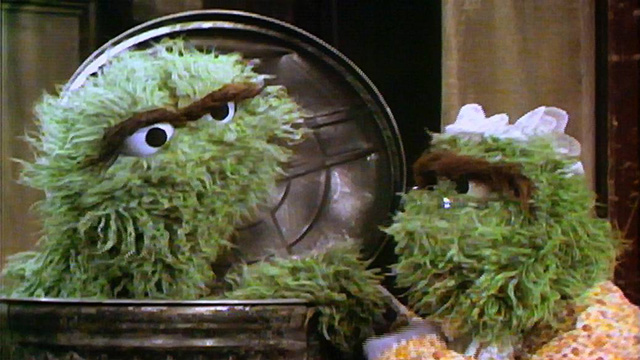 Watch on HBO Max
Muppet Wiki Guide
Other Releases
Sesame Street: Old School Volume 1 (1969 - 1974)
Sesame Street Unpaved (Noggin, 1999-2003)
If you've seen "Oscar's Grandmother Visits" on HBO Max please like this post and share your thoughts below.