Administrator
Staff member
Joined

Apr 11, 2002
Messages

8,176
Reaction score

3,392
Episode 30 - Granny Bird Visits
PBS Premiere: Friday December 19, 1969
HBO Max Premiere: Wednesday May 27, 2020
Big Bird anticipates Granny Bird's visit to Sesame Street! Big Bird returns from getting a feather-cut and sees Gordon. Together, they talk about what near and far mean, which Big Bird demonstrates, until he backs up too far into a stack of crates! Big Bird asks Mr. Hooper for some Gs since Granny Bird likes Gs sandwiches, as well as Gs-cake. Mr. Hooper explains that he means 'cheese' and that G begins words like glass, glove and game. As Granny's arrival approaches, Big Bird is upset because he lost his hat, ruined Granny Bird's flowers, and hurt his wing trying to hang a welcome sign. Susan gives him new flowers, Gordon hangs the welcome sign, and Mr. Hooper makes a pumpkin seed cake. With help from his friends, Big Bird welcomes his Granny Bird.
59 MIN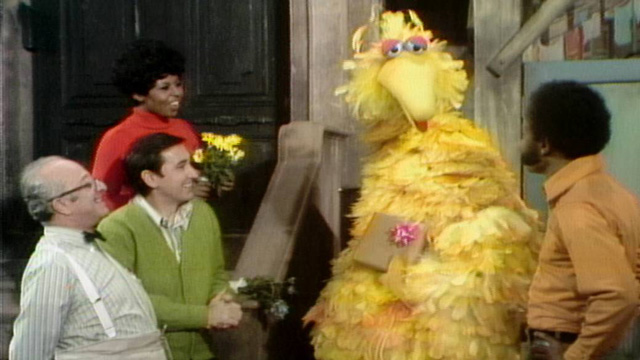 Watch on HBO Max
Muppet Wiki Guide
Other Releases
This is the first time this episode has been commercially released or streamed since it's original broadcast.
If you've seen "Granny Bird Visits" on HBO Max please like this post and share your thoughts below.