Administrator
Staff member
Joined

Apr 11, 2002
Messages

8,176
Reaction score

3,392
Episode 123 - Big Bird Draws Letter R's
PBS Premiere: Wednesday April 29, 1970
HBO Max Premiere: Wednesday May 27, 2020
Big Bird cannot remember how to write a lowercase "r". Luckily, a cute letter "r" drops onto his easel! Big Bird decides they will be friends after "r" kisses his beak! Little "r" does tricks, like roll over. "R" is so terrific, Big Bird draws its picture. When Big Bird wants to introduce "r" to Mr. Hooper and Gordon, little "r" has disappeared. They do not believe Big Bird and think he is imagining it. Alone again, Big Bird calls for little "r", who bounces back, this time with an uppercase "R"! Big Bird gets to practice drawing uppercase "R" now. After he draws a big "R", the letters bounce away. Mr. Hooper and Gordon visit Big Bird and do not believe two letter Rs exist. Luckily, big and little "r" bounce back. The adults realize the Rs do exist and not only in Big Bird's imagination!
58 MIN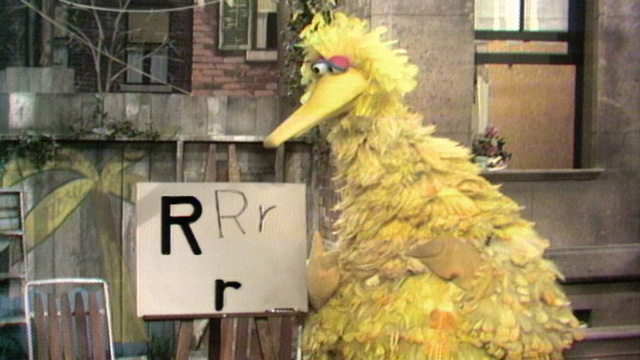 Watch on HBO Max
Muppet Wiki Guide
Other Releases
Sesame Street Classics, Volume 1
Amazon
|
Apple
If you've seen "Big Bird Draws Letter R's" on HBO Max please like this post and share your thoughts below.