Joined

Aug 29, 2002
Messages

1,806
Reaction score

180
For the past two years, my Palisades Muppet Collection was sitting in their boxes down in my parents' basement. My wife and I started the process of clearing out all of my stuff at their house, and I decided to take them out and display them! It also helped that my parents let me have the old bookshelf that I used to display them on back in High School. After setting them up, as well as several rearrangements, I've finally finished my display! There are several pictures to capture it, so I'll do one post for every shelf
Starting with the Backstage Playset. Originally, I was going to put Kermit behind the desk, but I didn't like how little of Kermit, you could see, so I went with
Beauregard
in that area since he's tall enough that he's not really hidden.
Scooter
yelling down from the megaphone seemed like an obvious choice. I've also got
Crazy Harry
causing trouble as usual up there.
Gonzo
is borrowing Scooter's skateboard, but I wanted something interesting for Gonzo, and I think it looks like he's about to do a crazy stunt or something. Finally, at the bottom of the stairs is
Rowlf.
Admittedly he's not doing much, but there's not really much to do since his hands are designed for the piano instead of holding things.
As you can see, I've also scattered various props from several characters throughout the set as well. I used some tape to help a few of them that kept falling. With all of the pegs they have, if you don't have at least a few things on the walls, I think it looks awkward. You'll also notice that I put one of Statler and Waldorf's score cards on each of the playsets. At some point during storage and moving, the phonograph broke, so I have the base by Scooter and the speak above Crazy Harry
Directly adjacent to Backstage is
Pops
complete with his Hotel table as well as
Miss Piggy
making sure she looks lovely for the camera that just happens to be facing her. Then at the area that would be the front of the stage is one of the great Muppet duos,
Kermit
and
Fozzie!
The microphone stand broke, so I have Kermit holding the microphone. I'd like to think he's about to introduce Fozzie's comedy act with his rubber chicken and funny nose glasses
Another classic duo,
Sweetums and Robin.
Originally I had them on a lower shelf, but with Sweetums height, you couldn't see him very well that way unless you bent down, so I moved 'em up. It was a little tricky positioning it so that Sweetums can be holding Robin and somewhat looking at each other, but I think it turned out nicely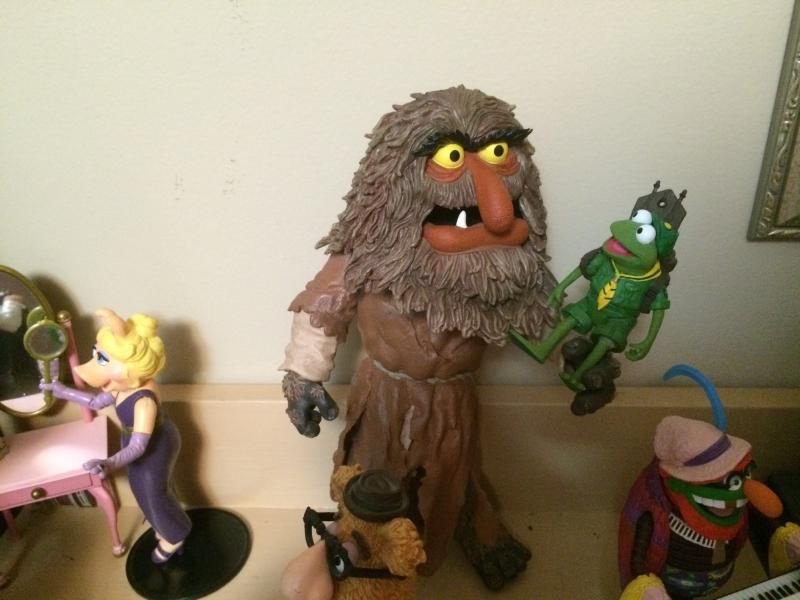 Completing shelf 1 is The Electric Mayhem! Complete with
Animal, Dr. Teeth, Floyd, Janice, Zoot, and Lips.
You might notice that I have the variant versions of Floyd and Lips instead of the regular, which is fine with me. One thing I was a little bummed about is that at some point, Floyd's hat decided to go MIA. I ended up having to super glue Janice's left leg back on, so she has very limited balance and mobility, which is why she's on a stand (I also had to glue Lips' trumpet together, which worked very well). Something else interesting that I realized way back when I originally got my Lips figure is that he came with 2 album covers! I have them displayed on the speakers.